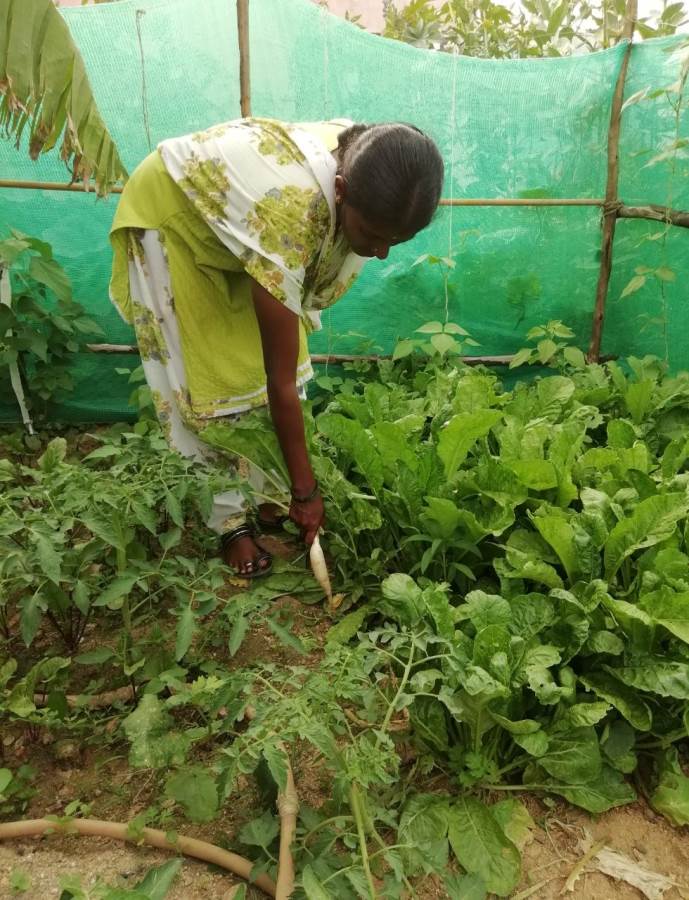 KITCHEN GARDENS
Over 70% of villagers toil as unskilled daily wage agricultural, industrial or commercial laborers.  These workers have little education and will undertake any type of work to make a living.  In India, they are also known as coolies.  Because these daily wage coolies do not have savings, when they don't work, they don't eat.  Fortunately, Kitchen Gardens was the one thing (besides our Grocery Kits handouts) that saved their lives during the lockdowns and other restrictions of the Covid pandemic 2020/2021.
The lockdowns brought to an abrupt halt  any possibility of earning even the smallest of income for the day
Even though agricultural laborers possess the know-how to cultivate and nurture vegetables and fruit trees, they never attempted their own crop cultivation.  The concept of a Kitchen Garden was introduced to them by Dr. Fernandes' NGO Masard, India.  After outlining the benefits — self sufficiency; food security; the potential to save money; healthier food untarnished by chemical spraying; and the promise they would be provided with a small capital to start planting their own crops, many consented because all they needed was a little motivation, encouragement and some guidance.  When the pandemic struck, these families saved themselves from starvation.
On looking back, notwithstanding the many hardships brought about by the pandemic, some constructive things happened as a result — a  new ambulance service & a mobile clinic was launched ; Village Social Workers got trained as Community Health Workers; and last but not least more Kitchen Gardens were started in addition to the ones already in existence.
One such family:  Bhagyalakshmi & husband Ramamurthi in Kamandoddi.  Both are daily wage agricultural laborers.  They have two daughters and a son.  The eldest daughter is married, and the second daughter is completing her final year at college.  The son does the same work as his parents.  During the lockdowns, when everything was closed, they relied entirely on their Kitchen Garden to provide them with vegetables and fruit like papayas and bananas.  They acknowledged, "It was the most valuable help for us during those desperate times!"
 Another such family is Kala who also lives in Kamandoddi village.  Her family "had absolutely nothing – no money, no stock of any groceries to support themselves during the first phase of lockdown."  Even when the lockdown restrictions were let up somewhat, they continued to suffer as they couldn't get work and therefore, no daily earnings.  This is the plight of all daily wage coolies.  Again the hand-to-mouth existence gets very evident in these villages when any type of economic disruption occurs.  And then there is the greater tragedy of having to borrow from moneylenders whose interest rates are egregiously high with no prospect whatsoever of ever becoming debt free because what the poverty stricken borrower can afford to repay is just the monthly interest.  In this regard, we try our best to ensure no one falls into this bottomless pit.  In the case of Kala and family, they didn't have any money at all to purchase basic necessities such as rice and atta (wheat flour).  They did not starve because Kala, her husband and family were able to live off their radishes, brinjals (eggplant), cabbage and other vegetables including plantain.
These are only two stories of the many families who profited from similar life saving Kitchen Gardens, an initiative conceived in 2018, in response to a perceived need in villages where over 70% of the population are daily wage coolies living precariously close to having no food to eat, if even the tiniest of an economic change occurred.
In 2018, Village Social Workers began promoting a few model Kitchen Gardens. Worth a thousand words, these flourishing model Kitchen Gardens inspired many other families who started their own in 2019, and the trend followed right up to February 2020, and then began again in September 2020, and is continuing to expand one family at a time.
There is a great demand currently for Kitchen Gardens.  If you would like to help a family start one, each Kitchen Garden start up cost is $165.00.  This amount will provide fencing, seeds and saplings for radish, beans, brinjal (eggplant), bitter gourd, cabbage, and a variety of other greens.  Additionally, the family will get whatever help they need during the first year.  All necessary requirements are already in place —  6-8 hours of sunlight, fertile soil and water source will be recycled water from their own homes that previously flowed wastefully into roadside drains and often overflowed onto public roads.  A  Kitchen Garden right outside their kitchens, will turn wasteful water flow back into profitable output, and an activity in which an entire family can beneficially participate.