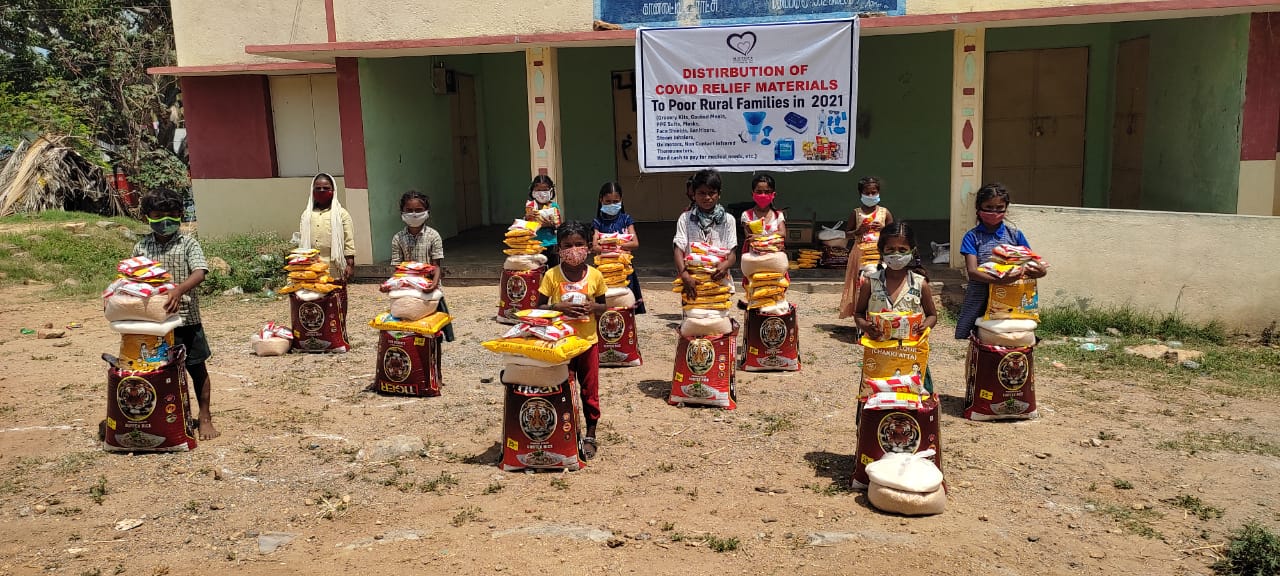 COVID RELIEF WORK
January 2021 – September 30, 2021
A Report by Dr. Fernandes of MASARD India
The second wave of Covid-19 infections affected India more than any other country in the world. At its peak, daily infections reached over 400,000.  People were falling dead like birds in scorching summer heat.  Long queues of ambulances fronted hospitals with patients in them awaiting admission.  As people died on streets awaiting oxygen or any other kind of therapy to alleviate their illness, crematories and cemeteries functioned around the clock to accommodate  unprecedented demand.  Countless corpses drifted down the Ganges river increasing even further health concerns.  Media around the world photographed mass cremations in public parking lots.
During the first wave in early 2020, rural India's health was not severely impacted by the disease compared to cities.   However,  the economic impact was massive owing to sudden and prolonged shut downs.  Everyone who had a job, especially daily wage coolies lost their only chance to bring home money to buy food for the day.  This section of society is too poor to have emergency savings. The term  Living hand to mouth  from the 1500's  refers literally to these inland rural villagers.  Fortunately, Mother Foundation and other NGO's stepped in to help.
The sudden onslaught of covid cases in March 2021 in our villages,  took everyone by surprise because last year this wasn't what happened.  This year, numerous people got sick and died.  Many of our staff also became infected with Covid, including key senior staff and many Village Social Workers, and their families.  Fortunately, our staff recovered except for one older gentleman, Mr. Vishwanathan who also had underlying health conditions.  Our deepest condolences to his family.  He was much loved and was a devoted volunteer.
This year's lock downs with no economic stimulus programs in place resulted in massive loss of livelihoods, no income whatsoever for many, depletion of the little savings that some had, acute distress for tenant/marginal farmers, increase in domestic violence, increase in malnutrition of children  (hence other health complications) because they lost their one free mid-day meal at school.  Families who had cows were not able to sell their milk, their only source of income.  Families who had small vegetable and flower cultivations were unable to sell their produce.  Small workshop employees like potters, weavers, decorative jewelry makers, etc.  lost their living wage.
The second wave required a more double-pronged intervention because it entailed not just feeding but also illness intervention.  With financial assistance from Mother Foundation and our other partner organizations, we launched Covid awareness campaigns accompanied with the distribution of masks and other personal protection aid.  Village Social Workers who are also trained Community Health workers were supplied each one with PPE (personal protective equipment) suits, infra-red thermometers, oxymeters, steam inhalers, anti-viral syrups, fever tablets, Vitamin B complex capsules, ORS (oral rehydration salts) packets, etc.  In other words, complete first aid kits for any kind of medical necessity that could be attended to in the patient's home.  First Aid Kit restocking was made ready and available to them, as well.  Ever-willing and motivated, fully-equipped, well-trained and ready, these local volunteers were able to provide critical Covid and other first aid care to families in their own villages. Additionally, they were each given Rs.10,000 – 20,000 ($135 – 270) for any other medical exigencies.
In June 2021, an Ambulance Service was launched using a donated van fully equipped to transport Covid patients from the villages to the closest hospital.  Please click on New Ambulance Service link to read more about this newly introduced, crucial life saving project.
Notwithstanding all the energy that was directed towards accommodating the medical aspect of Covid, a tremedous amount of effort was also directed towards food distribution in the form of Grocery Kits.  One food kit is composed of basic food items like good quality rice,  atta (wheat flour), dhal (lentils), sugar, cooking oil, curry masalas (spice mix), and pickles.  Each Grocery Kit can feed a family of five, three meals a day for a period of 45 days.
Because government schools were shut down indefinitely, special tuition programs were  instituted for the children.  Temporary but well qualified teachers were employed to provide this urgent educational need.  Although, the primary concern was for the sponsored children (Anyone can sponsor a village child at $35/month — please click on Sponsor A Child link to get more information),  this tuition program was also open to other non-sponsored children.  Additionally, they were provided with free mid-day meals, nutritious and cooked fresh each day.
Covid-19 has left a kind of devastation that will take years for families to recover from.  For the children, so much education was lost.  For the families, so much unemployment is now bearing the fruits of hardship which feels to them almost impossible to overcome.  Life savings have been depleted.  All previous economic progress within each nuclear family, no matter how small, be it something put away for the future, or budgets in place for planning, have all been uprooted leaving uncertainly and angst about what the future is going to bring.  For nearly two years now, every family has been in survival mode.  The fallout from Covid has been especially injurious to the daily wage coolie worker.   They had nothing to fall back upon.
Our multi-pronged humanitarian relief interventions during Covid have saved countless lives.  Without these interventions, many more families would have sunk further into abject poverty and many more lives would have been lost to Covid. These poor people in our villages are very grateful to Mother Foundation for the timely and compassionate help they have received.
Dr. J. L. Fernandes
30th September, 2021