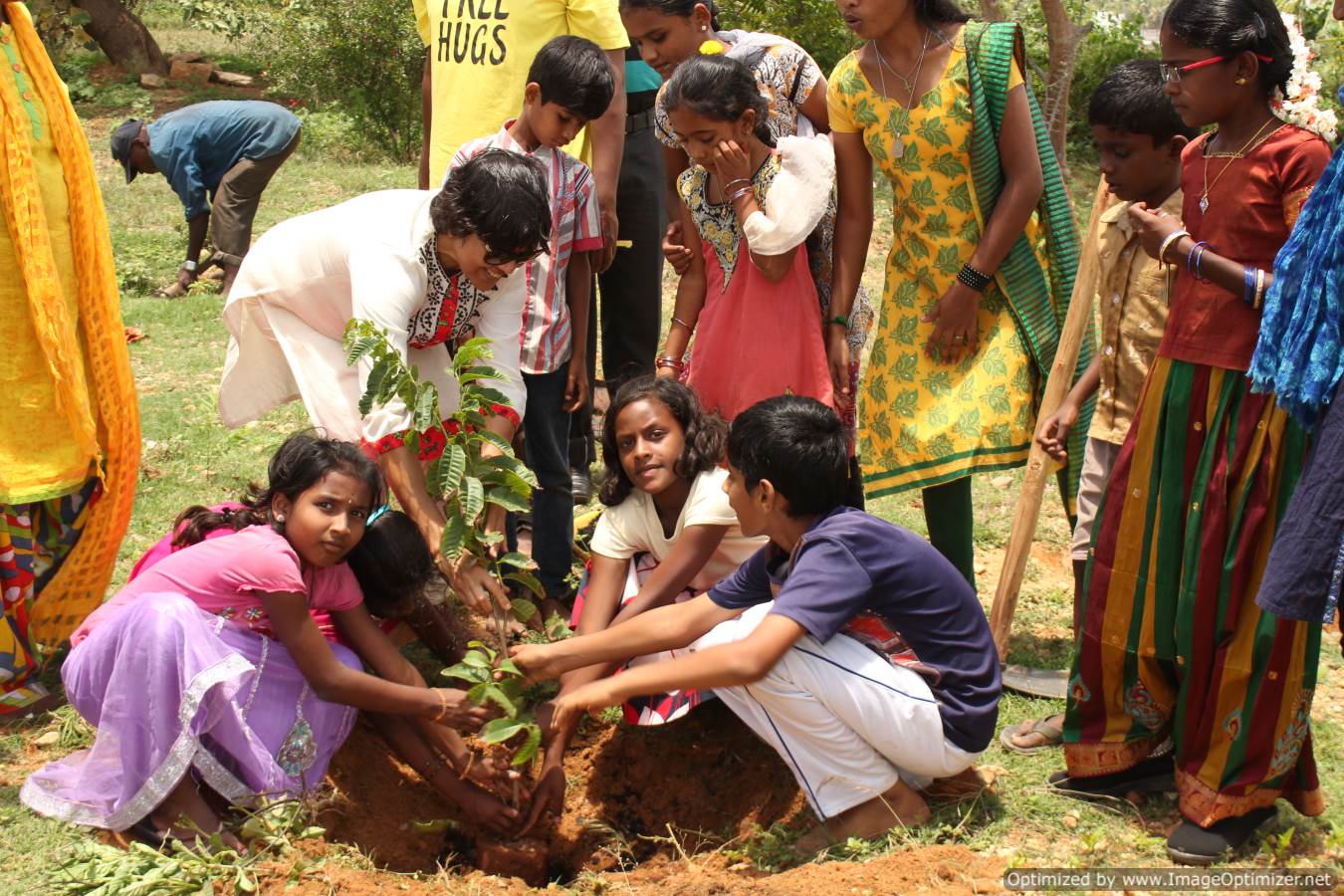 A long time ago, good stewards of the earth said,  Be kind to nature and she will be kind to you.  Sadly, no one paid attention.  Today's dramatic climate changes are wrecking our planet, and killing people from fires, floods and filthy air. We can change this.  We can plant trees.  Trees are a life line to cleaner air  and more importantly, restoring Mother Nature's faith in us again.
MASARD with Mother Foundation-US and SevaChildren India/Norway launched a Tree Planting Campaign in January 2020 by planting saplings alongside main and side roads. School children from neighboring villages, Masard staff and village volunteers all gathered for this auspicious event.  There is no need to wait for any special Save the Earth days; we must plant trees as often as we can.  In southern India, the best time to plant is June onwards to coincide with the wet rainy season.
Coinciding with the actual practical tasks of planting trees such as coconut, kadamba (burflower), jamoon (black plum fruit), and a few other flowering shade trees, we also renewed environmental & climate change awareness programs amongst our villages, focusing on tree planting.  They learn that:
*        Trees improve air quality by producing oxygen and by trapping dust, pollen & other pollutants.
*        Trees provide shelter & food for wildlife enhancing biodiversity — birds, monkeys, squirrels, insects all benefit from trees.
*        Trees are green, picturesque umbrellas, soothing to the eyes & reduce stress, and they give tremendously important shade during the very hot months, February to May.  Because they provide shade, water evaporates slower, so they are water savers too.
*        Trees prevent water pollution by acting as filtering systems.  Stormwater often contains chemical pollutants. Trees break the rainfall, trap it in layers of earth that are natural filter systems.
*        Trees stop erosion, help soil remain moist to increase fertility in agriculture.  They are also effective  wind breakers.
*        Trees around homes, along roads, in school yards, and temple compounds contribute substantially to improving quality of life for the whole community.
Our Ashagram Orphanage grounds is the embodiment of strategic tree planting not only for environmental reasons but also for practical reasons.  Fruit bearing trees such as jackfruit, mangoes, avocados, jamoon (black plum fruit), sapotas (sapodilla/chikoo), guavas, star fruit, grapefruit, canistel (eggfruit), mangosteen, apple ber, and other fruits, grace these grounds.  1,000 fruit trees in all. Tree guards and green protective cloth are utilized to prevent cattle from eating these delectable fruits.  There was a time when elephants would raze to the ground these trees but walls have been built to fortify the grounds, and keep them out. These walls were built with donations from you!
Two specialty trees, much loved by families here are the moringa (drumstick) and the curry leaf.  These two trees provide the staples in their daily food. Sapplings of both trees were distributed to every family in the TMG Kote village.  The plan is to distribute to every family in all of the 30 villages that we minister to.
The source of our seedlings, saplings and shrubs are from various government Horticulture Departments.   However, we must purchase fruit trees from commercial nurseries in nearby towns Hosur and Bangalore.
During the year 2020 alone, around 10,000 trees were planted in and around our communities.  Previous to 2020, 5,000 trees were planted.  Several of these trees are already yielding fruit such as the coconut, mango, guava and lemon trees.  School children coming to our Ashagram Orphanage for daily tuition get the benefit not only of the education we provide free of charge to them, but they also get to enjoy delicious fruit abundant with antioxidants and vitamins.
Aspirations for the future is to plant not less than 5,000 trees, yearly, in as many villages.  The main obstacle is always funding. Planting is the easy part. Watering and maintaining is the difficult part. The no-rain season is long — at least four months.  We hope to acquire a small water tanker which will have the capacity to carry water from our well-endowed Ashagram borewell to  surrounding villages during the hot dry months.
Additionally, the Ashagram Orphanage has the acreage and facilities(for one, free electricity connection to the borewell) to be converted into a nursery.  From this nursery, we can distribute seedlings and sapplings to all the villages.  It is a bold endeavor but nothing is ever accomplished by a faint heart.
We hope that you will sponsor our tree planting projects.  The fruits of our labor have always been only as good, and as abundant, as the help that you have given us.
If you require a 501(c)(3) receipt, you can make your donation here.  If not, you can make a donation directly to SevaChildren Norway at www.sevachildren.no.