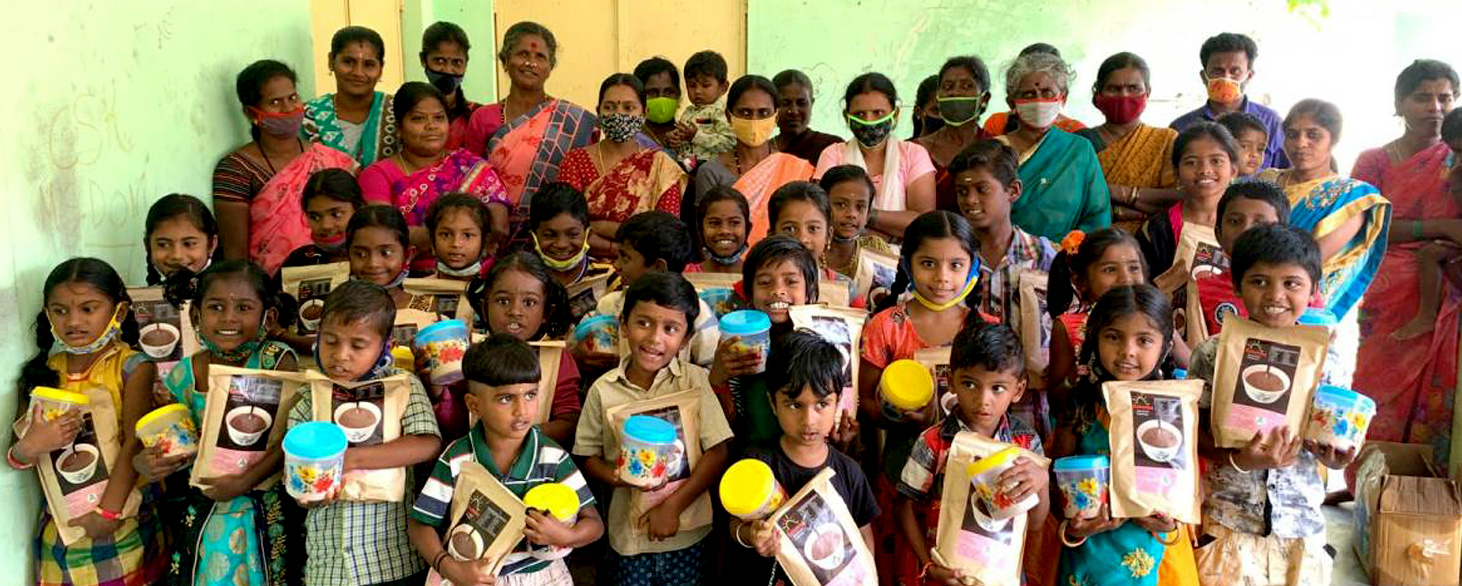 Porridge Project
This project will provide daily for one year, one breakfast bowl of a very highly nutritious porridge to100 most malnourished children in two Mother Foundation villages called Addakurukki and Kamandodi. This nourishing porridge containing Omega 3 is suitably beneficial to pregnant women and lactating mothers too. To this end, Dr. Fernandes' NGO Masard is in agreement with Vitamin Angels USA to provide Prenatal Multivitamins to augment the porridge diet for these women.
A Bangalore based NGO, in India, of which Dr. Fernandes is a trustee, formulated this healthful porridge, and this porridge is fed to their Day Care children at most risk for malnutrition. They are growing noticeably into very healthy kids.  With this success story in mind, we are most optimistic that our 100 children too will benefit likewise.
The ingredients in the Porridge formula are:
Ragi/finger millet
Wheat
Green gram aka Mung bean
Chickpeas
Sorghum aka great millet
Soya bean
Barley
Boiled rice
Sago aka tapioca pearls
Maize
Groundnut aka peanut
Cardamom
Cinnamon
Almonds
Cashew nut
Ginger
Bengal gram aka yellow lentil
Kambu aka pearl millet
These are some of the finest plant-based providers of protein and contain a range of vitamins and minerals necessary for bone and muscle growth and optimal well-being. Rich in antioxidants, high in fiber, with low glycemic indexes and supporting cardiovascular functions, these ingredients were specifically formulated without added color or preservatives to maximize healthful benefits in every way. These complex carbs, fiber and protein have been formulated to taste appetizing by the addition of delicious nuts like almonds and cashews.  Participants of the project will be disclosed all the ingredients in case they are allergic to any of the ingredients, like peanuts.
Hungry children suffer from many deficiencies including iron.  Most of the children are anemic. Feeling lethargic going to school, they have shorter attention spans and they often get ill.  When one child comes to class with a cough or a cold, everyone else gets sick because their immune systems are already compromised. Starting the day with a nutritious bowl of porridge will increase attention span in school, produce higher functioning kids, healthier children, and better resistance to contagious diseases like coughs, colds and influenza.  And currently, the number one fear, still is, contracting covid.
A project like this requires large funding for the porridge and for operational expenses. If you care to fund this project, please click on DONATE and send what you can.  No donation is small because even one US dollar goes a long way there, and we know your gift comes from the heart.  We also know this: you can donate to any NGO of your choice.  So, when you choose our children, we feel especially humbled and blessed! When we nurture our children and mothers today, they can nurture others tomorrow. God bless you, and thank you!
Note:  Dr. Fernandes is the founder of NGO Masard (Mass-based Association for Social Service and Rural Development) with whom Mother Foundation-US partners in India to promote education and community-based efforts to improve the quality of healthcare, and economic opportunity for MF's 15 villages in south India.