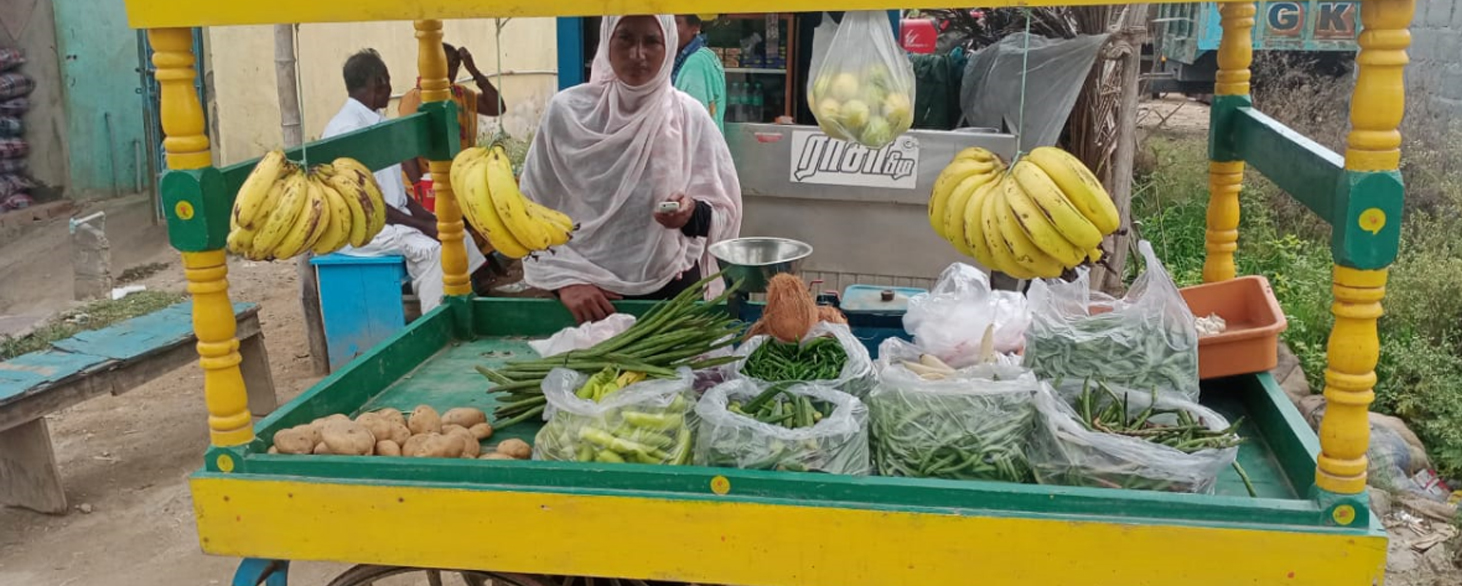 For the first time this year, in January of 2021, Mother Foundation began its Micro Loan program.  It was a pilot "model" project for Mushroom cultivation to be undertaken by a woman Munysa in Kamandoddi village. Turns out, her husband also got interested to work with her, and so both got training from the Horticulture Dept of the Govt. of Karnataka.  Afterwards, on their own, they sought and found buyers for their product which enhanced their chance of getting a micro loan for Rs.25,000 ($342) from us.  The motivation was there, and clearly they had taken all the steps to prove to us that they were fully committed to the project.  This model project was started in an enclosure that was part of their own house.  It has been such a successful operation that Munysa and her husband hope to lease a larger shed to expand their scale of commercial production next year, 2022.  Munysa is also one of our own Village Social Workers, therefore, we know she will be keen to motivate other villagers to follow in her industrious footsteps to cultivate their own financial independence.
The second Micro Loan  was given to Kamrun in August who wanted to purchase a Street Vending Cart so she could sell fruits and vegetables at the local market.  The loan in the amount of Rs.20,000 ($274) will help Kamrun sell more produce and hence make a greater profit margin each day.  Before that, she displayed her fruits and vegetables in baskets on the floor.  A vending cart attracts more attention, can display more produce and also is a cleaner method of selling crops.  Kamrun is the mother of Momina, one of our sponsored children in TMG Kote village.
In August as well, another Micro loan in the amount of Rs.12,000 ($164) was given to seamstress Ratna.  She is also one of our most valued Village Social Workers whose sponsored child Diksha is doing very well at school.  They live in TMG Kote village.  With the loan, she was able to buy more fabric stock, including saris and she is now able to have a more profitable tailoring and clothing business.
Venkateshen is a potter.  When he got very sick this year with Covid and had to be hospitalized, he lost his job as well because he was too sick to return to work.  He received a Micro loan of Rs.20,000 ($274).  This amount helped with paying hospital bills like medicines and also to support his impoverished family for the months he would be unemployed.  Venkateshan makes only $96/month and fortunately for him, an anonymous donor came forward to pay Rs.10,000 ($137) so that now he only has $137 of his loan to repay.  I am confident, that Mother Foundation shall find another sponsor to pay this other $137.  His wife, Indrani is very grateful for the help they received.  She said, No one has ever helped us like this.  And we received a very lovely letter of thanks from her.  Truly, it is Mother Foundation's Friends who make these wonderful things happen for so many.  For that, we are ever most grateful.  it is joyful and very humbling to see how much love there is in this world.
Re:  Micro Loans.  They are interest free.  No payments are required until after 12 months and even the 12 months are  always re-negotiable.  This program was introduced to relieve villagers of financial worry and stress, therefore, each case will receive every special consideration to make repayments a do-able thing.
Various products from our micro loan program at present!